24,111
LIVES SAVED*
145
ABORTION CENTERS CLOSED*
252
ABORTION WORKERS QUIT*
*FROM 2007 WORLDWIDE
Pray to end abortion and save lives!
OUR MISSION: SAVE LIVES AND CONVERT HEARTS WITH GOD'S HELP
Join our campaign, participate and suscribe to our newsletter with prolife info, prayers and devotionals
DONATE TO SUPPORT OUR MISSION
We need resources to keep the organization going on and saving lives
Be part of the beginning of the end of abortion. Join your local campaign.
News from the world
The Spiritual Battle for Life: Latin American Congress 2023
15-NOVEMBER
Over 250 40 Days for Life leaders and volunteers from almost every Latin American country and beyond gathered in Mexico City, 10-12 November 2023 for a Latin American 40 Days for Life Congress themed: "The Spiritual Battle for Life." The Latin American continent is vibrant and alive for life: the ...
Read on
A special meeting
30-OCTOBER
Yesterday at the vigil we had a special meeting.A girl, 15-16 years old, came to us and poured a river of words, also asking many provocative questions: "When I was 14 I had an abortion. The condom broke, what did I had to do?! I am a sporty person and ...
Read on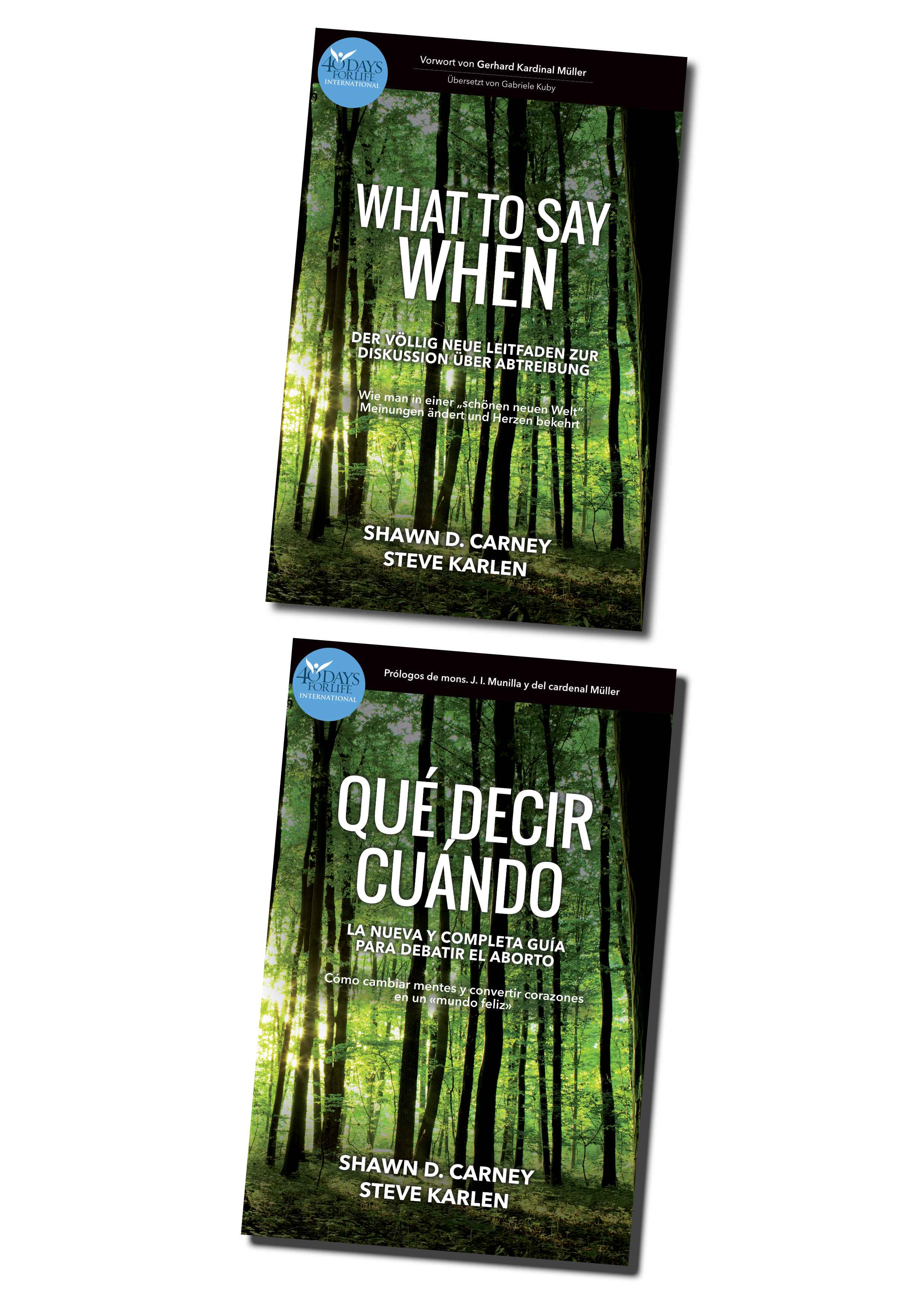 What to say when Spanish and German translations
What do I say when rape comes up? How do I respond to "My body, my choice"? How should I handle politics? 

From "forced birth" to gender to "shout your abortion," much has changed since abortion was legalized in 1973. Yet it remains the most controversial issue of our time. What to Say When equips you with proven approaches from the front-lines to help you: 
Know exactly what to say (and not say) when abortion comes up
Balance converting hearts versus winning arguments
Navigate the changing and bizarre new ways abortion is promoted
Go on offense and stay on topic when defending life 
German version
Spanish version
Get it in English in Amazon
Learn more about the 365 Vigils
Adding to the annual two campaigns of 40 days, some vigil locations keep their prayer and fast during all year round. Learn more about this
game-changer program
.